Book Review: The Forever Letter
Writing What We Believe for Those We Love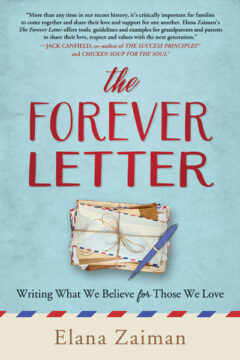 There's a sacred, little-known Jewish tradition of writing an "ethical will" to impart one's values to loved ones toward the end of life. Rabbi Elana Zaiman has been helping the elderly write these emotional, sometimes difficult, letters for years. In The Forever Letter: Writing What We Believe for Those We Love, Zaiman expands on this spiritual practice with tips for meaningful letter writing for readers of all ages.

In this age of Snapchat and text messages, why bother writing a full-blown letter? Zaiman writes: "When we write letters to the people we love, we give them a tangible gift that they can embrace for life: a gift they can touch and hold; a gift that reminds them of our love for them and our appreciation of them; a gift that becomes a permanent brick in the structure of our relationship and strengthens our bond."
This straightforward, engaging book offers practical tips for writing not just a letter, but a parable that conveys the essence of what has given your life meaning. Zaiman is, above all else, a wonderful storyteller. Her book is peppered with personal stories about meaningful letters she has received (most notably from her father), stories from people in her workshops, and stories about letter writing from literature and philosophy.
The Forever Letter explores the transformative experience of taking the time to express our values, wisdom, and love to the people who matter to us most. How might this process of going within and looking honestly at ourselves actually change us? How does it serve to deepen our relationships and remind us to live with greater intention? The takeaway from this book is that writing a forever letter is as much for the writer as it is for the receiver.
---
Similar articles with the same tag: