Book Review: Encounters with Power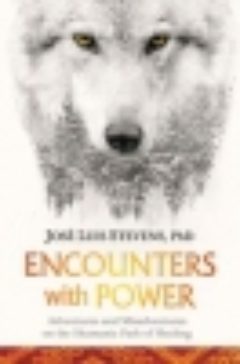 Encounters with Power
Adventures and Misadventures on the Shamanic Path of Healing
By José Luis Stevens, PhD
Sounds True
While the latest book from José Luis Stevens is not without its little nuggets of wisdom, it is best appreciated as a fun, entertaining read that offers some spiritual teachings along the way. Filled with tales of synchronistic experiences, harrowing close calls, and life-changing medicine journeys, Encounters with Power expresses a shamanic worldview in which the spider in your bag of toiletries is a manifestation of your fears, and the annoying egotist in your life is there to help accelerate your spiritual growth.
Stevens, the president of the Power Path School of Shamanism in New Mexico, sees the quest for power as a fundamental aspect of being alive. "A single tree demonstrates power as it explodes from the seed and seeks the sunlight above," he writes. "A hawk expresses power as it pecks its way out of the egg, screams for food, and one day takes that flying leap out of the nest into the sky."
Encounters with Power recounts some of the most memorable experiences the author has had while learning to seek and use power wisely. These include his efforts to stay centered while contending with dark shamans, the deaths of loved ones, and near-fatal misadventures in Guatemala and Mexico, as well as his epiphanies while traversing the Andes, climbing the highest mountain outside of Asia, and seeking wisdom through the ritual ingestion of ayahuasca, peyote, and San Pedro cactus. Exercises at the end of each chapter invite readers to consider whether certain key events in their own lives can be framed similarly.
In his 2014 book, Awaken the Inner Shaman, Stevens offered methods of overcoming the limitations of the ego. With his latest book, he shows some self-mastery in that area by pulling off the tricky task of writing about his peak experiences without coming off as self-aggrandizing—or, conversely, as falsely humble.
---
Similar articles with the same tag: