Book Review: Awake at the Bedside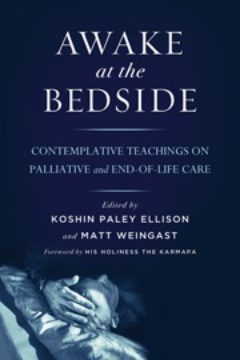 Awake at the Bedside
Contemplative Teachings on Palliative and End-of-Life Care
Edited by Koshin Paley Ellison and Matt Weingast
Wisdom Publications
"The potential for intimacy—for truly being in relationship—is always available," Koshin Paley Ellison and Matt Weingast write in the introduction to their new anthology, Awake at the Bedside, "but it can reach another level toward the end of life." And because the qualities of deep intimacy—such as kindness and compassion—are the qualities of an awakened heart, it would serve us well to practice giving and receiving care at the bedside.
Through a wide range of voices, Awake at the Bedside explores both the personal and social aspects of caregiving at the end of life. Early, influential palliative and end-of-life care advocates—such as Cicely Saunders and Elisabeth Kübler-Ross—make appearances alongside contemporary poets, spiritual teachers, doctors, and other caregivers. While not all of the contributors are Buddhists, editors Ellison and Weingast are each affiliated with Buddhist organizations—Ellison is the cofounder of the New York Zen Center for Contemplative Care and Weingast works in communications at the Barre Center for Buddhist Studies.
Despite the unusual assortment of contributors, there are common threads tying their pieces together. Many of the essays, poems, and teachings suggest that, while the process of dying is often difficult and painful, there is something beautiful and true about fully showing up for it. Because we live in a death-phobic culture, where many of us would rather turn away from the dying process, it can be a radical act to offer and accept care at the end of life.
Awake at the Bedside is a collection that demonstrates what compassionate caregiving looks like at the end of life, while offering comfort to those readers participating in the caregiving process. "When time is running out," Ellison and Weingast write, "caring is the only thing that matters or makes sense between beings now in the world, soon out—this giving and receiving, this intimate sharing of our inherent fragility and limited time."
---
Similar articles with the same tag: