Book Review: The Fear Cure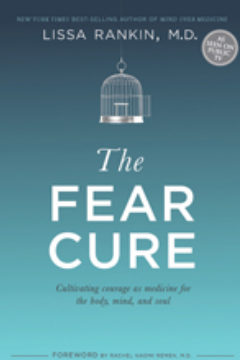 The Fear Cure
Cultivating Courage as Medicine for the Body, Mind, and Soul
By Lissa Rankin
HAY HOUSE
Anyone given to chronic fear knows that it acts like a disease—pouncing, then pinning its victims who feel helpless and hopeless to the floor.
Especially when presented by a doctor, scientific evidence that the physiological manifestations of fear can cause real diseases, even lethal ones, could potentially scare some of us into teeth-grinding paralysis. We might be better off skipping part 1 of this otherwise engrossing, inspiring guidebook and delving straight into parts 2 and 3, whose exercises, anecdotes, and insights compose a prescription for courage as thoughtful as it is workable.
Not that it's easy.
It is a monumental spiritual quest to "use fear as a billboard" baring the soul, then "let fear heal you," as Rankin exhorts, by "leaning into uncertainty," "leaning into loss," "accepting the unacceptable," and summoning faith in, if not a standardized Higher Power, then at least the idea of a "purposeful universe" in which one can "find meaning in everything," even genocide.
Incorporating all this advice distilled from sages, survivors, and the author's own experience could occupy a lifetime. But what could make life richer and more authentic than what Rankin characterizes as this holy war between the calm, deep, wise, eternal self she calls our "Inner Pilot Light" and the panicky, talkative "Small Self" that feeds on false fear?
Occasional self-help silliness, such as "find your brave" and "happy dance" notwithstanding, Rankin is a passionate guide whom we believe when she asserts that the main lament she's heard from dying patients is their regrets for having lived in fear.
---
Similar articles with the same tag: