Book Review: Waking from the Dream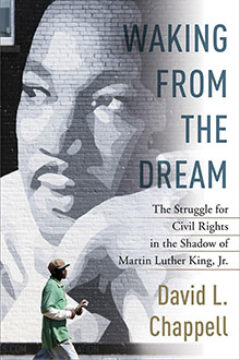 Waking from the Dream
The Struggle for Civil Rights in the Shadow of Martin Luther King, Jr.
By David L. Chappell
Random House
Martin Luther King Jr. would be celebrating his 85th birthday this month. He'd no doubt have much to say about the growing disparity between the rich and the poor, which, as much as race relations, was what was consuming him when he was gunned down on the balcony of a Memphis hotel in the spring of 1968.
In Waking from the Dream, the historian David L. Chappell provides a concise, clearly written, and well-argued account of what happened in the civil rights movement in the decade or two following the Baptist preacher's death. To summarize: not nearly as much as what happened in the 10 years before.
In the decade or so before King's death, the Supreme Court desegregated public schools and the Congress passed historic legislation outlawing discrimination in public accommodations and employment, and then adopted the Voting Rights Act. In comparison, one of the few landmarks in the post-King era was the Congress's action to ban private-housing discrimination.
Chappell cautions us not to find this record overly discouraging, arguing that the late 1950s and early 1960s were extraordinary times, and that the subsequent years mark the less explosive but still important maturation and institutionalization of that revolutionary era.
Two of the most compelling chapters dissect the successful crusade to canonize King with a national holiday and examine how revelations regarding his adultery and college plagiarism briefly knocked King off his saintly pedestal.
No single leader could fill King's shoes. But Chappell, author of the critically acclaimed book A Stone of Hope, devotes an entertaining chapter to the Rev. Jesse Jackson's opportunistic efforts to do just that
---
Similar articles with the same tag: