All Natural: A Skeptic's Quest to Discover If the Natural Approach to Diet, Childbirth, Healing, and the Environment Really Keeps Us Healthier and Happier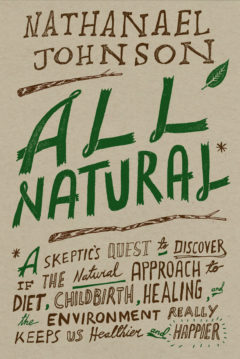 By Nathanael Johnson
Rodale
Award-winning journalist Nathanael Johnson sorts fact from frenzy in this hybrid memoir/reporting journey. His thorough, sometimes-graphic research on the topics of natural childbirth, artificial insemination of sows, vaccination, and climate change is not for those with a weak constitution. There is, for example, the sexual stimulation of a hog within these pages, as well as a nearly traumatizing description of childbirth.
These are memorable passages, however, because Johnson writes with an awkward nostalgia about growing up close to nature, outside the reach of television and artifice and too much technological angst. The subtitle is actually a bit of a misnomer, since he does not seem to be so much a skeptic as someone who believes ardently in the power of nature to soothe what ails us.
He doesn't foist on us his belief that the closer to nature one is, the better, but it's hard not to smile when he writes tenderly about growing up as a naked back-to-nature kid raised on zucchini in a world of space-pod juice packets like Capri Sun and spreadable cheese food. At one point, he writes, "The trick, as Wendell Berry put it, is not to find certainty but to act thoughtfully with partial knowledge." Even the nature lovers among us do this in a world replete with an abundance of information and technological advances, skeptics or not.
---
Similar articles with the same tag: