The Fire Starter Sessions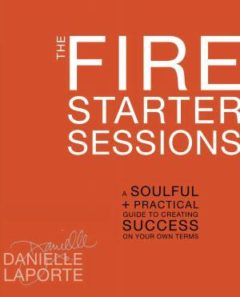 The Fire Starter Sessions: A Soulful + Practical Guide to Creating Success on Your Own Terms
by Danielle LaPorte
If there's a livelier and more get-to-the-point, outrageous, totally awesome, and practical motivational book out there than Danielle LaPorte's The Fire Starter Sessions, I haven't come across it yet. LaPorte, creator of WhiteHotTruth.com, is a forty-something, tattooed, former think-tank executive, business strategist, publicist, and gifted motivational speaker, who just happens to be as well-versed in Buddhist and metaphysical thought as she is in profit-and-loss statements. With words and phrases as precise as Ninja swords, LaPorte exposes the fallacy in popular self-help concepts. She illustrates why being "well rounded" is overrated, how your principles might be holding you back, why trying to create a "balanced" life can unbalance your life, why thinking "happy thoughts" when something really "sucks" can lead to the brink of doom, and why knowing how you want to feel should be the first step in planning out your goals.
"When being real is your priority, the various parts of your life start to groove," she says. "Your career will begin to reflect your true passion; your living room will match your values; your friends will fit your soul; and your wealth — of which there are many definitions — will start to measure up with your notion of freedom. Sometimes the courage to be true to yourself comes in the form of an out-loud declaration, a rebellion, or a love-drenched vow. Other times, it's a quiet conviction that we can read in your eyes." And whether your goals be mighty and world-changing, or introspective and discreet, LaPorte, whose book is interactive and filled with online resources, says "authenticity is the muscle that helps you shake up beliefs, policies, and restraints, and gives you the strength to do the things some say can't be done. Being genuine is the foundation of integrity — often inconvenient and not always painless, but the only way to go if you're here to really, truly, fully live."
You won't learn what LaPorte is teaching in business school, and "being strategic with your desires, leveraging your contradictions, saying no to resentment and yes to inspiration, making ease a metric of success," and other such precepts aren't likely to be found in any employee manual. They are, however, what stokes our soul's fire, and once lit, our one clear, bright flame can serve to light up the world.
---
Similar articles with the same tag: