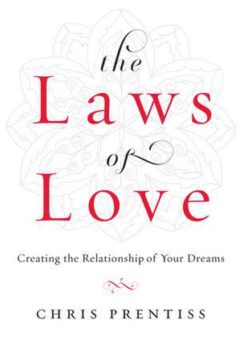 The Laws of Love: Creating the Relationship of Your Dreams
By Chris Prentiss
Power Press
Chris Prentiss has seen the world from both sides: raised by a mother who lived a life of crime and encouraged her son to do the same, Prentiss one day woke up to the fact that his lies, deceit, and cheating would get him nowhere ― or worse. He was saved by reading; stories of people who loved, who cared, who sought to do the right (or even heroic) thing inspired him to seek out and live the principles that led to a good, fulfilling, and happy life. He found his guide in the I Ching, a book of ancient Chinese wisdom that illuminated his path and initiated him into a study of ancient Chinese philosophical writings that lasted for more than 40 years. Today, Prentiss is happily married and is the co-founder of the world-renowned Passages Addiction Cure Centers. He is also the author of several popular works on personal growth, including Zen and the Art of Happiness, The Alcohol and Addiction Cure, and The I Ching: Book of Answers, among others.
His newest work, The Laws of Love: Creating the Relationship of Your Dreams, presents 14 universal Laws of Love ― simple yet profound principles that will work for anyone willing to put them into action. If you are seeking a relationship, you will learn how to become the kind of person who would attract the one you are seeking. If you are currently in a relationship, you will find it revitalized. If your relationship has ended, you will learn how to take what you have learned and use it to make your next relationship the best it can possibly be.
From the first law, Universal Law Controls Everything, which gives us the confidence that the Laws of Love can be depended upon to work, to the 14th and last (You Are the Author of Every Next Moment), which affirms that we can build a happy and fulfilling relationship by making our present moments count toward that goal, Prentiss's lively book helps us understand what love looks like in action. He addresses issues of trust and the need to create safe and nurturing spaces that foster the open communication and acceptance that allow a relationship to thrive. Not one to encourage remaining in a seriously flawed or dangerous relationship, he also includes an explanation of the "deal-breakers" that indicate it's time to get out and move on. Filled with stories and action steps that suggest ways to put the Laws of Love into effect in our daily lives, this meaningful and heartfelt book helps us to see how our perfect universe is always working for our benefit, and it teaches us to ask not "Why me?" but "How can even this benefit me?" Especially appreciated is a list of things we can do to tell our intimate partner, without words, how very much we love him or her.
---
Similar articles with the same tag: