How to Pray Without Talking to God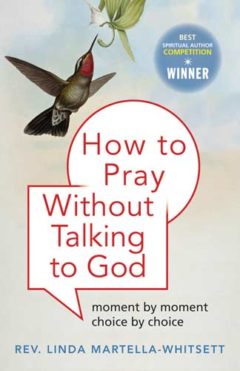 How to Pray without Talking to God
By Rev. Linda Martella-Whitsett
Hampton Roads
"All reasons for prayer can be distilled down to one," believes Rev. Martella-Whitsett. "We pray to claim and assert our Divine Identity, so that we can live more fully from it. We pray so that we may embody Divine Nature."
This way of praying, called "affirmative prayer," is not the type of prayer taught in the mainstream churches, where the Divine is approached as a kind of human, only with "superhuman powers," who must be begged for mercy and supply, and who has to be persuaded, bargained with, and promised good behavior in return for aid and favors. Affirmative prayer doesn't involve begging a distant God to change us, other people, or our circumstances; instead, it opens our minds to the awareness and conscious-ness of God and Divine Mind and affirms our union with God. It takes us out of the problem and into what we know to be true of God and thus opens us to an abundant flow of power and creativity, as we see how we can be transformed, even through the circumstances of the moment.
"We have misunderstood the great truth about Divine Identity," says Martella-Whitsett. "We have called it 'potential,' as if we have to work toward the goal of divinity. We have believed it to be conditional, as if each of us could gain or lose individual Divine Identity, depending upon individual actions. We have thought we have to journey to find our Divine Identity, as if it had gotten lost or separated from us." With affirmative prayer, we claim our Divine Identity. Moment by moment, in each choice we make, we can embody the Divine.
Raised in a Catholic family, Rev. Linda Martella-Whitsett's search for an authentic spirituality led her to live for a time in an American ashram before becoming an ordained Unity minister and spiritual teacher. She serves as the senior minister at the Unity Church of San Antonio and is a mentor for emerging New Thought leaders.
---
Similar articles with the same tag: