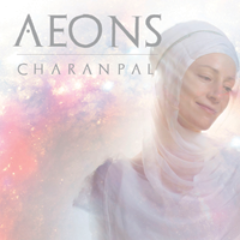 Aeons
Charanpal
Spirit Voyage Records
Like her Spirit Voyage labelmate Snatam Kaur, American singer/guitarist/harmonium player Charanpal brings a silken voice and a fine sense of melody to the medium of devotional chant. On Aeons, the follow-up to her 2013 album Simran Sadhana, she is backed by instruments like violin, tabla, and harp, as well as an all-female kirtan choir.
Aeons kicks off with the dreamy, hypnotic "With You Now (I Am Thine)," whose laid-back groove and haunting tune will be irresistible even to many listeners who are not spiritually inclined. Sweet but not saccharine, the song clocks in at more than eight minutes without overstaying its welcome. Though it is interspersed with Punjabi mantras, "With You Now" is one of a few songs on the album that are sung mostly in English. "And as the wind whispers our answered prayers, igniting various lights, like notes, the stars align, singing Mystery's songs of life," the vocalist intones.
Adding to Aeons's accessibility is Charanpal's tasteful incorporation of musical styles familiar to Western audiences. A combination of sly vocal swoops and weepy lead guitar gives "Har Mukande" a slightly countryish feel, while some rapid-fire chanting near the end of "Ad Guray Nameh" calls to mind the 16th-note phrases sometimes heard in hip-hop or dance hall reggae.
One of Charanpal's strengths as a composer is her talent for weaving two different vocal lines together. The ends of both "Har Mukande" and "Pavan" find her overlapping Punjabi chants with English phrases, to striking effect.
With its soft, ethereal feel and its inviting blend of Eastern and Western elements, Aeons is potent stuff—intoxicating, seductive, and habit-forming.
---
Similar articles with the same tag: