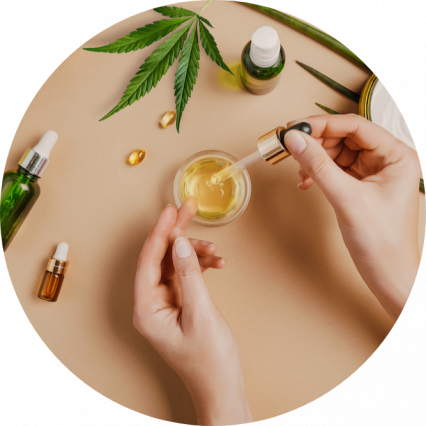 CBD Resources from S&H and Partners
Your hub for all things CBD from Spirituality & Health and our partners.
Featuring articles from our experts Kathryn Drury Wagner, Melissa Howsam, Becky Garrison, Brandi-Ann Uyemura, Tequia Burt, and more.

Discussing topics from Migraine Relief to Cosmetics to Cannabinoids Beyond CBD.

Ever since the 2018 Farm Bill legalized the production of hemp, startups and well-known, established companies have started formulating CBD products. You've likely seen various types of CBD remedies on the market, claiming to treat everything from inflammation to acne. But there's more to the hemp plant than just CBD, including a couple of lesser-known, but equally therapeutic cannabinoids, CBN, and CBG. Cannabinol (CBN) and cannabigerol (CBG) are, just like CBD, cannabinoids from the hemp plant. So could they really be that different? Surprisingly, the answer is yes. In fact, the cannabinoids have enough complementary differences that you might want to consider adding both to your wellness routine or even eliminating one.
Explore CBD and Beyond With Kat's Naturals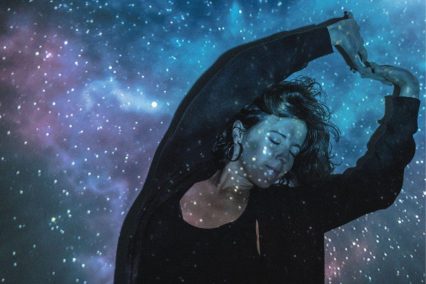 PARTNER CONTENT FROM KAT'S NATURALS

CBN oil is the latest remedy on the block, and it's packed with potential benefits.
BY MELISSA HOWSAM
Given the overwhelming marketplace (CBD-infused toothpicks, anyone?)—it's hard to remember a world before CBD and even harder to fathom what's next."From a consumer perspective, everyone wants to be healthy and go the natural or organic route," says Clarence McSwain, licensed hemp farmer and owner of both The Hemptender Dispensary in Durham, North Carolina, and the Halcyon Leaf CBD brand."There is an element of intrigue that CBD touts some of the benefits of medical marijuana without psychoactive effects."Hemp-derived CBD products provide natural relief for people without the unwanted side effects, explains John S. Boccella, a chiropractor and co-owner of The Hemp Company in Raleigh, North Carolina. "The public is tired of taking synthetic prescription medications that are loaded with side effects."
HONEY MUSTARD CBD CHIPS?
While noningestible CBD-infused options are plentiful—"Everywhere you look there is hemp lotion, facial cream, shampoo, etc.," acknowledges McSwain—the ingestible market is still the base of the industry. Ingestibles are dominated by tinctures and gummies.
Tinctures outsell gummies overall, says Boccella, but his The Hemp Company sells more units of gummies than tinctures. McSwain sees a similar consumer trend, explaining that while tinctures are more popular than edibles given their more consistent absorption, at The Hemptender Dispensary gummies are the top sellers, as they offer a more familiar approach to CBD.
With the likes of CBD water, CBD-infused Cheetos knockoffs, and other infused food and bevs galore taking to market, it's worth considering whether tinctures and gummies will occupy a smaller part of the market in the future.

Not really, says Boccella, "because the most cost-effective, efficient method to supplement CBD is by ingesting a tincture or inhaling." He sees the budding CBD-infused nips and sips as more "recreational" than for health and wellbeing. For example, he explains, "water has minerals, but if you are mineral-deficient you should take a mineral supplement."

Adds McSwain, "There is still a gray area and a bit of stigma for major manufacturers in terms of adding CBD to ingestible, commonly known products." So, despite the novel ways of ingesting CBD that may pop up at your corner gas station, tinctures will always have their place—a projection that helps to define the future market. Keep reading ...
BY TEQUIA BURT
Two-thirds of Americans suffer from inflammatory gastrointestinal symptoms like diarrhea, gas, bloating, stomach pain, frequent bowel movements, and unexplained weight loss. Can CBD help with these digestive issues?
CBD, or cannabidiol, is everywhere. You can find it in lattes, lotions, facial masks, and gummy bears to address everything from anxiety to arthritis. And CBD is also being used increasingly to help support gut health and settle upset stomachs.
"Very preliminary research has shown that CBD may have an anti-inflammatory effect on the gut. Clinically, I have seen CBD used as part of a medical plan be very helpful in treating GI disorders such as IBS and inflammatory bowel," says Dr. Dani Gordon, author of The CBD Bible: Cannabis and the Wellness Revolution that Will Change Your Life. "Though it is not a cure for these conditions, CBD can make a huge difference and has far fewer side effects than many other drugs used in the treatment of gut disorders." Keep reading ...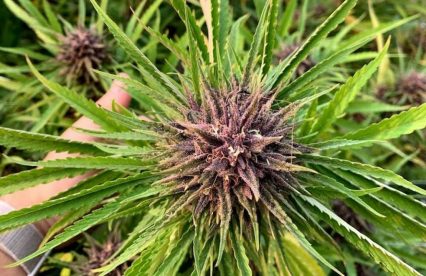 BY BECKY GARRISON
"Making my own CBD cream from seed to salve empowers me. I know I am making a product with my own hands that has therapeutic benefits."
BY BRANDI-ANN UYEMURA
There has never been an ingredient like CBD, says Kristin Adams, who ran a makeup company for 15 years and is now the owner of Satori Minds, where she helps others start their own beauty businesses. "It's the only ingredient in the history of commerce that has had this much success with little or no advertising," she says.
The 2018 Farm Bill legalized hemp, removing it from the definition of marijuana. Hemp seed can now be legally used in food products, which is why it's been widely produced and seen more commercially. That's why you might have noticed little graphics of hemp leaves and cannabis on packaging for cosmetics. But that means hemp seed oil, not CBD, is in the ingredients. "When consumers see the words 'cannabis' and 'sativa' all over the packaging with the hemp leaf design on green bottles, they assume that there's CBD in the product. Sadly, that's often not the case. Cannabis sativa oil is simple hemp seed oil that contains zero CBD," Adams says.
Still, that might slowly change. While research is limited and mostly anecdotal, a 2014 study found CBD to be promising as an antiacne treatment because of its ability to decrease oil on the skin. It's also anti-inflammatory and a natural antioxidant with less side effects than commonly used treatments such as retinoids and salicylic acid.CBD's advantage in makeup is its ability to "kill two three or four birds with one stone," says Adams. "It's multifunctional." When your powder or foundation is already sitting on your face all day, it could be working on eradicating blemishes or moisturizing your skin.
You'll likely see lip butters and creams with CBD subtly advertised as "moisturizing" and "soothing." Adams explains, "It may reduce topical inflammation, redness, acne, and symptoms of eczema … and support the repairing of skin and reduce the appearance of wrinkles." She uses CBD to keep her own sensitive skin calm and under control.
For now, independent brands are the only ones taking the leap to creating makeup with CBD while bigger companies are waiting for more clarity and acceptance from the FDA.
While searching for makeup products with CBD, there are a few things to keep in mind. You want to be cognizant of how much or how little there is. Adams recommends looking for cannabidiol (CBD) in the ingredient list. Keep reading ...