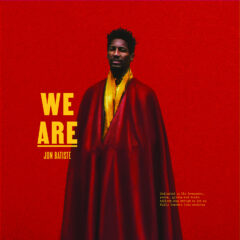 We Are is the powerful new album from pianist/singer Jon Batiste, his first full-length studio album since
Hollywood Africans in 2018. These 13 songs optimistically celebrate the deep strength of community while delving into current social problems like racial inequity.
The album's title recalls the We Are Peaceful Protest and March with Music in New York City on June 6, 2020, that Batiste helped organize to confront police brutality following the police murders of Ahmaud Arbery, Breonna Taylor, and George Floyd.
Batiste wrote in press announcements for We Are, "This is our response to the deep-rooted systemic injustice we have yet to fix, a fact made abundantly clear by the public execution of another black person."
We Are continues Batiste's tradition of music that is playful and unpredictable; his band Stay Human recorded its 2011 album MY N.Y. entirely on New York City subway trains. Batiste, born in Louisiana, has been nominated for three Grammys, including Best New Age Album for his 2020 collaboration with Cory Wong titled Meditations.
While grounded in soul, gospel, and hip-hop, We Are is contemporary and for this moment. Batiste's tasty jazz piano is icing on the cake. "Tell the Truth" and "Freedom" are full of the get-up-and-groove ingredients that gave James Brown his mojo. "I Need You" is reminiscent of the playful abandon of Pharrell Williams' 2013 hit "Happy," while "WACHUTALKINBOUT" is a vocal whirlwind reflecting on recent years of turmoil and potential.
The title song is uplifting and features the voices of Batiste's grandfather and nephews as well as the marching band from the high school Batiste attended in New Orleans. "We Are" brings home the timeless, uplifting message that we are the ones we've been waiting for.
---
Similar articles with the same tag: