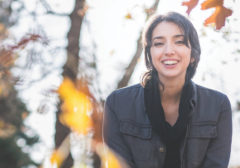 Areni Agbabian is an improvising vocalist, pianist, and storyteller whose emotive music is informed by twenty years of classical piano training, singing with Bulgarian and Armenian choirs, and performing with Armenian jazz pianist Tigran Hamasyan. Agbabian's second solo album, Bloom, is sparse, spacious, and full of light. Her beautiful vocals and Nicolas Stocker's engaging polyrhythmic percussion make Bloom a divine offering of focused improvisation and reinterpreted sacred hymns.
"I find that music is ideally an act of worship, even if the music is not spiritual in nature," Agbabian told S&H. "I came very close to Christ the person and it happened through being led to the Apostolic Church and chanting the music. That's really what the album is about—coming to know Christ. It comes from being in a different state and having the grace of God come into my life."
Agbabian was born and raised in Southern California into an Armenian family. She began singing at an early age. "My family taught me hymns from both the Protestant and Apostolic Church while I was growing up. There's a sense of ritual there."
"Patience is more important now," are the opening lyrics on Bloom. It's a sentiment that surely speaks to many of us now. "We try to isolate our hope for being good-natured in a vacuum. In real life it doesn't work that way," says Agbabian.
Stocker's percussion on "Patience" appears like slowmotion jazz. "I've always enjoyed the sensation of sound in slow motion," Agbabian reflects. "Sometimes when there's too much information it can be overwhelming. The world is overwhelming enough, you know? I like long, slow sounds to calm me down." On the song "Mother," Agbabian sings, "I am swaddled by the greatest ocean of love which flows from behind my eyes." She explains, "That's how I experience the spirit of God. When I received that spirit, I felt that inside me. I felt that gentleness in my eyes."