Music Review: Deep Africa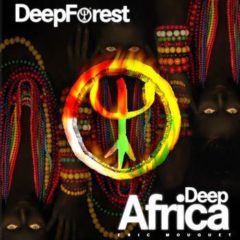 Deep Forest
Big 3 Records
"Amber Opening" is a smooth, flowing song that begins this lively, rhythm-based album. The sweeping synthesizer pads, vocal harmonies, and cracking drums could perfectly serve as the soundtrack for a wide-screen film that moves across the sand dunes of the Sahara to the green banks of the Niger River, down to the warm coast of Senegal; this is the long-anticipated album Deep Africa, by Deep Forest.
Deep Forest was created by two French musicians, Michel Sanchez and Eric Mouquet. Their self-titled debut album was released in 1992 and included the ear-catching track "Sweet Lullaby," featuring voices from Cameroon's Baka Pygmies. For two decades Sanchez and Mouquet—together and separately—have traveled the globe collaborating with inspirational song makers, creating a hybrid of West and East that's been called ethnic electronica and ethnoambient.
Deep Africa has Eric Mouquet playing with some of Africa's greatest musical talents, including Congolese vocalist Lokua Kanza, Wasis Diop from Senegal, South African singer Zama Magudulela, Senegalese-French drummer David Fall, and guitarist Guimba Kouyaté from Mali.
"Africa United!" is an underlying theme for Deep Africa, as the album brings together a diversity of languages, instruments, and styles from across the continent. All the songs emerged and evolved during the recording sessions, adding to the album's feeling of aliveness. In his liner notes, Mouquet explains that he used vintage 1980s synthesizers like the Fairlight and Synclavier. "I was looking for a warm and wild sound for Deep Africa," he writes. "The mix between vintage synths, vocals and real African instruments and percussions produced the musical touch I wanted." Deep Africa is a satisfying journey, proving that Deep Forest still has that musical touch.
---
Similar articles with the same tag: