Music Review: Buy This Fracking Album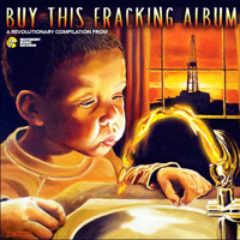 Buy This Fracking Album
Featuring Meshell Ndegeocello, Natalie Merchant and the Felice Brothers, Rusted Root, Marco Benevento, and others
Music Movement Records
Jason Samel was deeply inspired by the Egyptian revolution in 2011, and the Occupy movement that swept the world afterward. He created a song and video—"Tahrir Square"—and by 2012, produced a compilation album of 99 songs by 99 artists dedicated to the 99% and to ending corporate control of the U.S. political system (Occupy This Album). Now he's put together another powerful set of songs to address environmental degradation by supporting the end of hydrofracking, a method of oil drilling that's sparking more and more concern and criticism due to environmental pollution and drinking water contamination apparently caused by the controversial technique.
Buy This Fracking Album is a diverse and enticing compilation of songs from some of today's (and yesterday's) most inspiring, politically aware musical artists including Pete Seeger, Woody Guthrie, Tom Morello, Ani DiFranco, Michael Franti, Rootz Underground, Indigo Girls, Bonnie Raitt, and Anti-Flag. The two-CD album of 24 songs is a buffet of musical genres, including tasty helpings of hip-hop, reggae, heavy metal, folk, punk rock, and jazz.
Jason Samel keeps busy—aside from being a musician, socially responsible insurance agent, and Obamacare expert, the New York-based record producer is also a Reiki healer. "This practice has helped me understand the energies of the world quite a bit more," he told S&H. He also explained that his interest in spirituality was originally inspired by The Celestine Prophecy, the novel by James Redfield. "It made me realize how interconnected everything is," Samel reflects.
When I mention to Samel that some people now speak of Occupy as if it's disappeared and no longer exists as a force for social change, he laughs heartedly. Clearly, Buy This Fracking Album is an inspiration and continuation of Occupy. "The goal," says Samel, "is to create a community that hears this music and in turn will affect some positive change." Proceeds from the album will support anti-fracking organizations, including Food and Water Watch.
---
Similar articles with the same tag: