Music Review: Rising Appalachia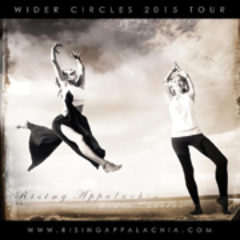 Rising Appalachia
Wider Circles
RISING APPALACHIA
A few years ago a friend emailed me the music video for Sunu by Rising Appalachia. The simple and earthy song had a playful feeling and the colorful images of stilt walkers, forest aerial dancers, and white-clad yoginis kept my attention. The sights and sounds appeared as a tribal, do-it-yourself circus moving to a more connected world.
Wider Circles is the newest release from Rising Appalachia, continuing their powerful blending of folk, blues, global percussion, and social justice led by vocalist sisters Leah and Chloe Smith. Biko Casini brings in the drums and percussion and David Brown lays down guitar and double bass.
At 19, Leah began a five-year travel that took her around the world including India, Hawaii, and Mexico, where she worked with the Zapatistas. Her travel writing later morphed naturally into songs and by 2005, Appalachia Rising was born when their first album was recorded in a single day, titled simply Leah and Chloe. Five albums later, the group has toured Europe, Central America, India, and 14,000 miles across the U.S., playing at diverse spots like the School of the Americas Vigil, Naropa Institute, Burning Man, and the New Orleans Fringe Festival.
The inviting songs of Wider Circles focus on community, gratitude, and healing. With banjo, fiddle, percussion, and guitars setting the stage, the sweet harmonies of the Smith sisters stir a positive vision where maybe, just maybe, the human family will heal wounds, tune in to mother nature, and dance in the streets, mountains and bayous.
---
Similar articles with the same tag: