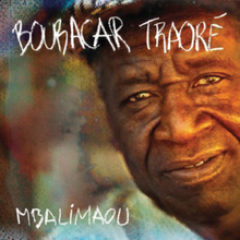 Mbalimaou
Boubacar
LUSAFRICA
Boubacar TraorÉ was born in the city of Kayes in Mali in West Africa. It's a country that traces its roots to the 12th-century Mandingo culture that's rich in music and storytelling. Now in his 70s, Traoré is a seasoned guitarist and vocalist who seamlessly combines poetic lyrics, Mandingo instrumentation, and an eternal blues sensibility to create a modern African Blues that pulses with feeling and meaning.
Mbalimaou is the latest album from Traoré, who now lives in Bamako, where the album was recorded at the Bogolan Studios. The songs are poetry set to music that weave through universal blues territory ("Oh my darling, don't leave me") and open into broader comments on life from an African point of view. Traoré sings about everything from daily meals to the human predicament of war. "Sagnon Moni" is about millet stew, a main staple in the region, and "Bembalisso" (There's No More Peace in This World) is a lament on the worldwide propensity for violence: "I went to Africa / I found war there / I went to the West / I found war there."
Kar Kar, as Traoré is affectionately known by fans and friends, is joined by a group of gifted musicians who enhance Mbalimaou with traditional percussion by Babh Koné (gourd), Yacouba Sissoko (shakers), and Fabrice Thompson (drums). Ballaké Sissoko adds Kora (African harp) and also helped to produce the album. Vincent Bucher rips on the harmonica, Soumaila Diabaté plays the Sokou (traditional one-string violin) and Oumar Barou Kouyaté adds N'goni (Mandingo plucked lute).
Mbalimaou also offers up a deep sense of trust in life. On the title song, "Mbalimaou" (My Brothers), he sings, "I went to the East / They confirm it: everything in its own time / My dear brothers / Anything's possible." Traoré will be playing across Europe in May and June 2015.
---
Similar articles with the same tag: