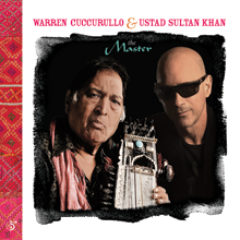 The Master
Warren Cuccurullo and Ustad Sultan Khan
Six Degrees Records
Talk about a musical journey: when guitarist Warren Cuccurullo was 10 years old, he took to the sounds of India, particularly the tabla playing of Alla Rakha and the sitar music of Ravi Shankar, when he first heard them on "The Ed Sullivan Show." Cuccurullo later became a fan of Frank Zappa and eventually toured and recorded with his band, including playing rhythm guitar on the "Joe's Garage" albums. But that's not all; Cuccurullo later became a founding member of '80s new wave band Missing Persons ("Mental Hopscotch" and "Walking in L.A.") and then became a longtime guitarist for the world-class pop band Duran Duran.
Back in 1998, amid a successful career in the pop music world, Cuccurullo met up with Indian sarangi master Ustad Sultan Khan in London for a session that was "largely spontaneous." The recording was tucked away and unheard—until now. Released for the first time, The Master is a gift for our ears, combining the talents of these two musicians on an album of exquisite rhythms and textures with a quality that is truly contemporary. Khan passed away in 2011, before seeing the release of The Master.
The album's seven songs cover quite a bit of territory, with tracks like "Octavia" that are reminiscent of Robert Fripp's early looped guitar work and "4D Suite," a quick-paced piece that uplifts and generates energy. The final track, "You Can't Tell," sounds like a gift of gratitude to George Harrison and The Beatles for having been among the first to bring India's sacred sounds to the West.
---
Similar articles with the same tag: