Music Review: The Spiritual Side of Wynton Marsalis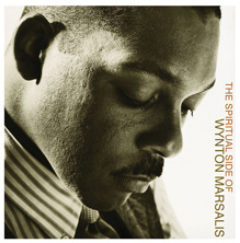 The Spiritual Side of Wynton Marsalis
Wynton Marsalis
Columbia/Sony Classical/Legacy
In 1968, Wynton Marsalis's parents enrolled their children in Our Lady of Perpetual Health, a formerly all-white parochial school in Louisiana.
Young Wynton enjoyed the stories of the New and Old Testaments but was frustrated with the lingering segregation of church services and often refused to attend Mass. As he matured, Marsalis's spirituality took shape largely outside the church, through music. By the age of 14, he was playing his trumpet with the New Orleans Philharmonic.
His latest album, The Spiritual Side of Wynton Marsalis, is a collection of 15 songs from seven albums plus "Precious Lord, Take My Hand," a previously unreleased track featuring the gospel legend Marion Williams. The album alternates between slow and fast pieces, representing the New Orleans funeral style that influenced Marsalis. Other songs include "To Higher Ground," "Awakening," and "Oh We Have a Friend in Jesus," featuring Cassandra Wilson, from Marsalis's 1997 Pulitzer Prize–winning jazz oratorio on American slavery, Blood on the Fields.
Marsalis points to the spiritual and connecting power of music in his 2011 Harvard University lecture, "Music as Metaphor": "The struggle at the heart of humankind and the central debate of our Constitution have been resolved by [American] musical arts for over a century." As the album liner notes add, music "lifts us out of the human problem of me versus you, and us versus y'all, and brings us to the understanding: 'all of us.'"
---
Similar articles with the same tag: