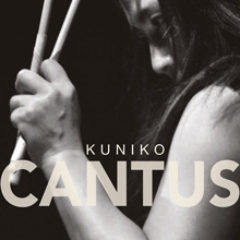 Cantus
Kuniko
Linn Records
Kuniko Kato, a native of Japan, studied piano as a child and discovered that her small hands were limiting her abilities. "As I grew older," she writes in the liner notes for her second album, Cantus, "I discovered the marimba and instantly knew this was the instrument for me." Since then she's toured Asia, Europe, and the United States as a solo percussionist and with many orchestras.
Cantus features six pieces by three influential contemporary classical composers: Arvo Pärt, Steve Reich, and Hywel Davies. Kuniko created new arrangements for the pieces with the blessing of the composers. Her marimba and vibraphone stylings enhance the simple and slow-shifting aspects of these songs.
"Für Alina" and "Spiegel im Spiegel" are two of the most delicately sweet pieces of modern music, and Kuniko offers her own unique interpretation by replacing Pärt's piano and violin with soft vibraphone and ringing crotales (small tuned cymbals). The album's title track, "Cantus," also by Pärt, is a tribute to the British composer Benjamin Britten, who died in 1976.
All of these pieces are deeply transportive, taking the listener to emotional destinations. Reich's signature pulse is reminiscent of a train journey across unknown terrain. Kuniko describes Pärt's subtle music as "beautifully simple," comprising "solemn, tender and sorrowful sounds."
"Purl Ground" by Davies is hypnotic and, according to Kuniko's notes, took countless hours of rehearsals and recording takes. "This piece is deeply evocative," she writes. "When I close my eyes, I am greeted by visions of sunlight dancing on water, gently changing colour."
---
Similar articles with the same tag: