Liquid Mind X: Meditation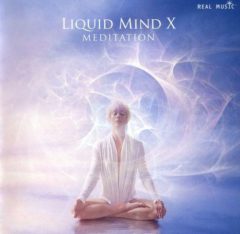 Chuck Wild
Real Music
Chuck Wild's music career has been a wild ride. Back in the 1980s, he played keyboards for the new wave rockers Missing Persons and later produced music for the TV show Max Headroom. (Remember that wacky robotic TV host?) Wild also did sound design for Michael Jackson. Since 1994, his music has centered on a series of relaxing, healing Liquid Mind albums, often topping iTunes charts.
Meditation is his tenth album. It offers a calming, quieting experience that harkens back to Wild's discovery of meditation and self-healing. In 1987 he was working 20-hour days, seven days a week, and was exhausted. It was also a period when AIDS took the lives of many of his friends. "I started having panic attacks," he says. "I was rushed to a doctor in Hollywood because they thought I was having a heart attack."
The doctor held up a bottle of pills and told Wild, "There's only a one-letter difference between meditation and medication." Wild tried the latter briefly and didn't like the effects, so meditation quickly became a valuable tool for relieving his anxiety. He also stopped consuming caffeine. And then he discovered the medicine of music.
"A therapist asked me to compose music that represented the way I'd like to feel." Wild meditated at the beach and noticed the relaxing effect of the sound of the water. "The liquid was relaxing my mind," he says. "I went home and composed the first album."
But how to get the album distributed? "I was meditating on the problem of financing the album series when I got a phone call," Wild recalls. It was the music producer Bruce Swedien. "Would you like to work with Michael Jackson?" Swedien asked.
Wild says, "The money I made from Michael got the Liquid Mind series off the ground. I gave him copies of the music. Michael smiled and said, "I'm glad you're helping people."
---
Similar articles with the same tag: