Music Review: Before This World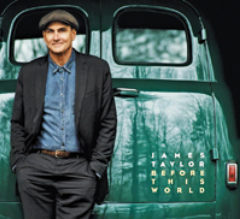 Before This World
James Taylor
Concord Records
James Taylor's first studio album of new material in 13 years hearkens back to his 1997 release Hourglass. Like that album, Before This World features guest performances from Sting and Yo-Yo Ma, and it finds the folk singer/songwriter at his most contemplative.
"Today Today Today," the opening track from Before This World, faintly echoes its singer's 1971 hit "Country Road." In between melodic leads from fiddle player Andrea Zonn, Taylor brings listeners up to speed on his life in the present day: "Somehow I haven't died, and I feel the same inside as when I caught this ride."
Before This World juxtaposes songs about war ("Far Afghanistan") and recovery from addiction ("Watchin' Over Me") with metaphysical musings like "You and I Again," in which the 67-year-old songwriter wonders aloud whether he and his wife, Kim, have known each other in past lives ("I can't escape this feeling that we've been this way together, you and I"). Themes of agnosticism surface on the album's title track: "Who can pretend to understand at all? No one can both inside and outside be. Who can suppose he knows the way this goes?"
All told, Before This World comes off as the work of a man who is grappling with the mystery of existence, but who is ultimately just grateful to still exist at all.
---
Similar articles with the same tag: