Film Review: All That Breathes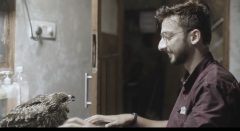 Winner of the World Documentary Grand Jury Prize at this year's Sundance Film Festival, Shaunak Sen's All That Breathes is a film as gorgeous as it is ambitious, as stirring as it is terrifying. Stunningly filmed amid the choking pollution of Delhi, the film follows two Muslim brothers who have dedicated their lives to taking care of the local birds, particularly the black kite, a species very common to the city. The air quality and pollution are so bad that the local wildlife has evolved in different ways to survive it. Even so, birds fall out of the sky at regular intervals.
Sen has a patient, observational style with his camera: He is often content to let us watch a desolate street scene, or a group of people eating dinner without really talking to one another. It's an immersive tactic, allowing us as viewers to fall into the cadence of the world being presented onscreen. This in turn opens up a variety of perspectives on the film. It's a tale about the relationship between these brothers and a look at their hopes and dreams. It's also a tale about the dangers faced by the black kite in a city with runaway pollution. But perhaps most importantly, it's a look at the ways in which all living beings are connected; the movie observes its humans the way a human might observe a fascinating specimen of wildlife. And, given the perilous situation all the creatures depicted in this picture are in, one cannot help but wonder if it's just a matter of time before we are all similarly threatened.
---
Similar articles with the same tag: