Film Review: Needle in a Timestack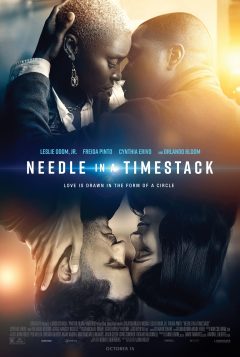 JOHN RIDLEY'S Needle in a Timestack is a convoluted, unconvincing romantic sci-fi drama, but it does raise some fascinating questions. The film follows Nick (Leslie Odom, Jr.), an architect who is madly in love with his wife, Janine (Cynthia Erivo), but is concerned that he might lose her. They live in a world where time travel is possible and can be used to alter realities and relationships, but it's an indulgence that can only be afforded by the wealthy. And Janine's ex-husband and Nick's ex-best-friend Tommy (Orlando Bloom) is not only super-wealthy, he's also still pining for Janine. Soon enough, a time shift happens and, before we know it, Nick is suddenly with Donna (Ulka Simone Mohanty) and has almost no recollection of Janine, who is now back with Tommy. As Nick goes through his faded memories and dives into his past to find out who this mysterious women is that he's drawn to, he also contemplates his love for Donna.
The idea of there being one special person out there for everyone is the kind of romantic fallacy that our cultural products traffic in regularly, so it's interesting to see a film that actually interrogates this idea. Our hero goes through many of the same emotional beats with his new paramour as he did with his old one. So, does everybody have one special person, or is that just a pleasant thought we use to distract ourselves from life's missed opportunities and might-have-beens?
If only the film went further with that idea. Ridley's script asks interesting questions, but it still seems to settle for the same old romantic clichés. Which might not be a huge problem if the film actually leaned into the emotionality of its story. But instead, the performances are too inert (why do sci-fi movies always portray the future as a cold place?) and the story is often too confusing for any of the film's notable ideas to resonate. Needle in a Timestack is not necessarily a bad film—it's too interesting for that, and Ridley, best known for writing the Oscar-winning screenplay for 12 Years a Slave, is too perceptive a filmmaker for that. Still, it's not hard sometimes to see this film itself as a missed opportunity.
---
Similar articles with the same tag: