Film Review: The Antidote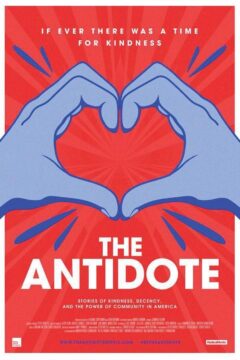 The Antidote
Directed by Kahane Cooperman, John Hoffman
CINETIC/BRAND NEW STORY
The subtitle of The Antidote is "Stories of Kindness, Decency and the Power of Community in America," which sounds somewhat vague. The filmmakers claim that it was made "in response to the times we are living in," which also makes the film sound like it will be topical. The truth is that the documentary is an intriguing patchwork of mostly unconnected stories, each of which might make an interesting short film. If there is a theme that runs through all of the stories, it is that of their subjects' humanity, though they don't necessarily present a cohesive portrait of America
today. In truth, the film doesn't offer much about "the times we are living in," perhaps because it's trying to steer clear of politics. Still, it all begs the question: What is this so-called "antidote" for?
Nevertheless, it can be heartwarming to see these stories, which range from an African-American community organizer starting up community bike shops with the kids in his neighborhood, to a refugee resettlement organization in Anchorage, Alaska, to a center in Portland, Oregon that brings elders in need of care, adoptive families, and foster kids all under one roof. The pitch itself is not a remarkable one, though the film- making—which is immersive, and often features long, elegant shots taking us through these spaces, as well as moving interviews with the subjects—is elegant and occasionally powerful. The Antidote's vision of ordinary people helping out their fellow humans in sometimes predictable, sometimes surprising ways isn't all that remarkable. What's remarkable is the fact that a film like this was needed at all.
---
Similar articles with the same tag: