Film Review: The Armor of Light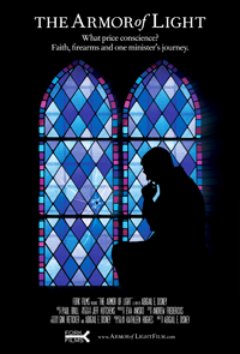 The Armor of Light
Abigail Disney
Fork Films
Abigail Disney's emotionally overwhelming documentary portrays one of the more surprising political and religious alliances of recent years. At the film's heart is Rob Schenck, a longtime leader in the pro-life movement and a conservative Republican, who makes common cause with Lucy McBath, a gun control activist. Lucy is the mother of Jordan Davis, a young African American man who was shot and killed by an older man at a gas station after an argument during which the assailant felt scared after arguing with Davis about loud music coming from his car; the killer is using Florida's notorious Stand Your Ground laws as a defense.
Schenck's decision to join in what would be considered by many as a "liberal" crusade is a betrayal of his fellow travelers in the conservative evangelical movement, but it comes after much soul-searching: He's trying to wrap his head and his heart around the fact that so many spiritual men and women who profess to love Jesus have become so attached to the idea of deadly weaponry.
Schenck is a sensitive and articulate guide to the issues at play here; he has a way of making his own questions resonate in the viewer's mind. But the real heart of the film comes from Lucy McBath herself: Her love for her fallen son, her inconsolable grief at his loss, comes through in such a powerful way that it almost disrupts the film—in a good way. And Disney, through her unprecedented access to both sides of the debate and her compassionate approach to the material, turns a movie about a political debate into a genuine spiritual inquiry.
---
Similar articles with the same tag: