Film Review: A Will For The Woods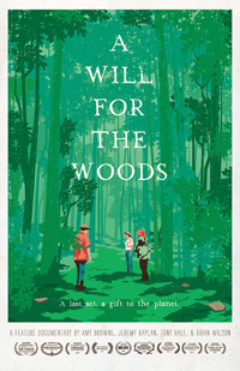 A Will for the Woods
Directed by Amy Browne, Jeremy Kaplan, Tony Hale, and Brian Wilson
OVERWHELMING UMBRELLA PRODUCTIONS, INC
"I'd like to use whatever time I have left to help set a pattern in our community of going back to really traditional and natural ways of handling our dead." Those are the words of Clark Wang, a charmingly garrulous psychiatrist, pianist, and folk dancer struggling with lymphoma—and also the subject of this profoundly touching documentary about how we prepare for and face death and funerals. A Will for the Woods follows Wang and his partner, Jane, as they continue to battle his terminal illness, even as they research their options for a burial that is in tune with both their spiritual and environmental needs.
Green burials involve both sustainable practices of handling the dead—natural, biodegradable caskets, no embalming fluids, no vaults—and strategic use of burial space, because you can help save a natural space by choosing to be buried there. (Green burials avoid cremation, as all that burning and the fossil fuels required for it are also not ideal for the environment.)
A Will for the Woods intriguingly explores this growing world of green burials and some of the key figures in it. But at heart, it's Clark Wang's story—a film about his beliefs, his life, and his attempts to turn his death into something meaningful and lasting. That determination helps power the film, even as Wang's situation becomes even more dire. As he puts it himself: "Without this, dying from lymphoma feels so pointless and empty." This is a very sad movie, but its glow is undeniable.
---
Similar articles with the same tag: