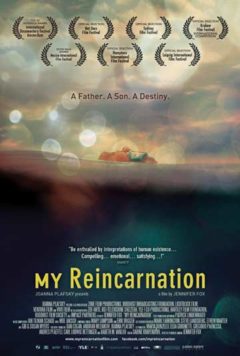 My Reincarnation
Directed by Jennifer Fox
Documentary DVD
In English (and Italian and Tibetan with English subtitles)
myreincarnationfilm.com
Acclaimed documentary filmmaker Jennifer Fox's award-winning film, My Reincarnation, was made over a 20-year period, during which she was given unparalleled entry into the private lives of high Tibetan Buddhist Master Chögyal Namkhai Norbu and his family. Namkhai Norbu was born in 1938 in eastern Tibet and was recognized as a reincarnation of the great Dzogchen Master Adzom Drukpa and also of Shabdrung Ngawang Namgyal, the first Dharmaraja of Bhutan. As a teen, he studied with some of the greatest masters of his time. In 1960, he moved to Italy and was instrumental in spreading Tibetan culture in the West, teaching the Tibetan and Mongolian languages and literature at the Istituto Universitario Orientale in Naples, Italy. He is recognized as a leading authority on Tibetan civilization, especially its history, literature, and the medical and astrological sciences.
Underlying the story of Namkhai Norbu's rise to the position of a great and respected Buddhist teacher in the West is that of his son, Yeshe. Born in Italy and recognized at birth as the reincarnation of his father's uncle, a great Tibetan Buddhist spiritual master, Yeshe will have none of it. Deeply desiring to live a private life in the modern Western world, he breaks away from his heritage, causing his father to suffer a deep, quiet grief. Fox, who met Namkhai Norbu in 1985 and served as his secretary on and off, traveling with him for four years, was excited by the drama of the young man's situation. "One day when we were walking together in Rome, I discussed the potential of filming him returning to Tibet to the monastery of his reincarnation and the people waiting for him since his birth. He was emphatic: 'You can film as long as you like, but it will never happen. I will never go back to the monastery in Tibet,' he said. I believed him." But his story was about to take an amazing turn.
Fox's intimate and powerful film explores themes of cultural survival and identity, spirituality, family, inheritance, and responsibility in a way the will touch hearts and minds as it reveals the depths of a father's love and the price paid by those in positions of spiritual leadership.
---
Similar articles with the same tag: