Book Review: Energy in Action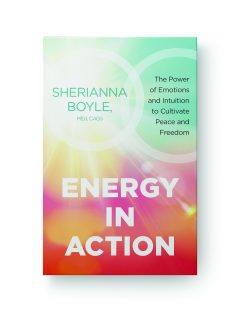 What would life be like if you could harness the energy of your emotions into a powerful force that enables you to manifest your most joyful and connected life? That's the question behind emotional detox coach Sherianna Boyle's Cleanse Method outlined in her latest book, Energy in Action: The Power of Emotions and Intuition to Cultivate Peace and Freedom.
"Cleanse" is an acronym for seven mindful tools for emotional processing: Clear, Look Inward, Emit, Activate, Nourish, Surrender, and Ease. Boyle has used this method with thousands of clients to help them tap into their full potential. This spiritual toolkit clearly draws on Boyle's background as a psychologist, yoga and meditation teacher, and life coach.
This book is divided into two easy-to-digest sections that incorporate conversational explanations, exercises, and anecdotes from Boyle's life and her clients' experiences. Part I lays a foundation for moving energy, exploring the benefits of the Cleanse Method, and transforming your emotions to align with the 13 Universal Spiritual Laws (including Oprah's favorite, the Law of Attraction). Boyle explains how she manifests in her daily life, and what can get in the way of harnessing the energy within and all around you.
Part II goes into greater detail, with a chapter devoted to accessing each law, as well as additional cleanses that aid in manifestation. The beauty of these chapters—and potentially a point of frustration—is that there are dozens of cleanses for the 13 Universal Laws. The wide variety of cleanses offer you actionable ways to change your frame of mind and redirect the energy of your thoughts. But some readers may find the cleanses repetitive.
If you are looking for a new way to approach harnessing energy that incorporates concepts of mindfulness, self-compassion, and expanded awareness, you may find this an uplifting and inspiring read.

---
Similar articles with the same tag: