Book Review: Sacred Sendoffs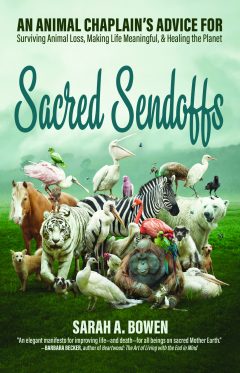 SARAH BOWEN CREDITS her first pet, a cat named Him, with putting her on the path to becoming an animal chaplain responsible for improving human-animal interaction.
As a preadolescent, she freed a chipmunk from Him's jaws, later grieving the cat's own death. From that time on, Bowen made it her life's work to "ensure animal deaths are witnessed and their bodies are treated with reverence."
Sacred Sendoffs is a thought-provoking challenge to all humans with animals in their lives (which is all of us) to consider the value of animals, and why we tend to value them as lesser than people. She argues that even if we do insist on valuing humans as more worthy than animals, there is still an incentive to treat animals well: Doing so can engender a respect for all life.
The book is broken down into chapters on everything from animals' spiritual experience to animal adoption, euthanasia, and the evils of industrial farming. The title section, Sacred Sendoffs, offers insight into the animal lover's grieving process and provides practical guidance on how to support a dying animal, how to handle the body of a deceased animal, and how to simply increase awareness. (For example, when cutting the grass, "Avoid mowing from the outside in, since starting at the center and moving outward allows time for frogs and chipmunks to get … out of the way of slicing blades.")
Bowen covers a great deal of ground here, creating a new paradigm for thinking about the way we treat our closest companions and fellow beings. And she offers hope for the future, reminding us that learning to value animals in life and death may be the first step toward saving our beloved planet.
---
Similar articles with the same tag: