Book Review: Dusk Night Dawn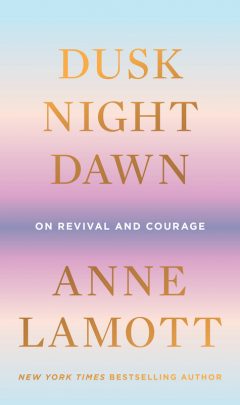 Dusk Night Dawn: On Revival and Courage
By Anne Lamott
RIVERHEAD BOOKS
"I've gotten so much less young," Anne Lamott writes on the first page of her new book. That may be true, but she grows ever more glorious as a writer. As in her previous work, Dusk Night Dawn shimmers with humor and beauty. It's Lamott's 12th nonfiction book—other titles include the classics Operating Instructions and Bird by Bird—and she is also the author of seven books of fiction. In Dusk Night Dawn she muses about climate change, later-in-life marriage, aging, and sobriety.
Lamott married at age 65, and her reflections on adjusting to the state of perma-coupledom are by turns hilarious and vulnerable. She writes, "I had forgotten how disconcerting intimacy can be, how rare and how devastating the potential for loss that's inherent in it." Her husband is, she says, "wide open," while she lives "in fear of bad outcomes—of climate catastrophe, war, aneurysms; and of course, snake attack." Her book has harrowing stories about her days of early sobriety and pre-sobriety, as well as laugh-inducing tales from her current life, like when she absentmindedly swallows her dog's pills.
Her theme of redemption comes through perhaps most sweetly when she writes about teaching Sunday school to children—simple lessons involving a nautilus shell or a field trip to the beach. "What would soul Windex look like?" she ponders prior to teaching a class about forgiveness. For another lesson she prepares, "We could begin with the only known sighting of God's butt. ..." How could you resist learning from this woman?
As in all of her work, Lamott seemingly tells her readers: Look, look at this mess. Then she reassures us that she still survives and is still loved by God. And that you can be, too.
Read our Book Talk on Dusk Night Dawn by Anne Lamott.
---
Similar articles with the same tag: