Book Review: The Spirit Almanac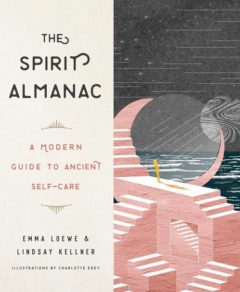 Our modern world continuously works to divert our attention to the superficial and trite, often inhibiting our attention to sacred and spiritual moments. However, tuning into ourselves by practicing spiritual rituals is a vital component of health and wellness. The Spirit Almanac: A Modern Guide to Ancient Self-Care by Emma Loewe and Lindsay Kellner inspires such sacred moments, detailing rituals that encourage creativity, introspection, and serenity to deepen our relationship with ourselves and the universe.
Both editors at the health and wellness site mindbodygreen.com, Kellner and Loewe use their insight regarding spirituality and ritual to manifest an almanac that incorporates practices ranging from the familiar to the transcendent. Designed around the seasons and specific calendar events, the rituals align us with the natural forces at work in our lives. Seamlessly incorporating ancient customs and beliefs, the practices involve meditation, yoga, journaling, astrology, tarot, breath work, and beyond. The rituals utilize tangible elements, such as essential oils, candles, crystals, and herbs to awaken and deepen each sacred moment. While the practices are specifically aligned with the history of each calendar event, they also conclude with recommendations from experts on how to incorporate them into our daily routine, from small, simple inclusions to more serious commitments.
Adorned with exquisite illustrations by Charlotte Edey that beautifully capture the book's motifs, The Spirit Almanac is an ideal gift for the holiday season. Readers interested in deepening their spiritual practices, increasing their self-awareness, and enhancing their communion with others would be moved by such a thoughtful, unique present: a gift that will truly nurture their spirits throughout every season.