Creating a Lifetime of Wellness—Start Having the Life You Deserve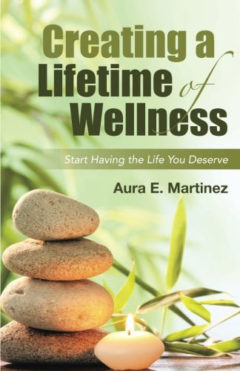 In order to live a full, balanced, meaningful life, many of us may have heard several of Aura E. Martinez's recommendations: make sleep a priority, strengthen our relationships, figure out who we truly are, and honor our authentic selves. While these suggestions seem simple enough to grasp, actually implementing them— looking candidly within ourselves and making necessary changes— is easier said than done. In Creating a Lifetime of Wellness, Martinez, a wellness and life coach, encourages the discovery and analysis of our true self, and charges us to honor that self to create the life we are meant to live. The end goal of true wellness may be something that has been explored before, but the path is laid out with concrete action plans and new inspiration brought by Martinez's insight.

Each chapter examines a different aspect of our lives that impacts our overall wellbeing— mental, emotional, spiritual, and physical— and offers specific suggestions to implement changes in our daily routine so that we might strive to maintain "a balanced, fulfilling life." Emphasis is given on the importance of setting goals, building authentic relationships, and increasing our self-awareness to heighten the likelihood of change and growth within each of us. Martinez places significance on the importance of a genuine analysis into our self and our spirit to adjust our mindset about each situation with which we are presented. She encourages us to view every situation, person, and stage as an opportunity for positive change and to "grow from every experience." Through clearly defined action steps and goals, she highlights the necessity of nurturing our body, mind, and spirit to appreciate a full, significant life.
While Martinez discusses primarily conventional means of achieving wellbeing, she offers an invigorating viewpoint and a sincere, profound inspection of those means to encourage everyone to cultivate change in their daily lives. She asserts, "When you don't live authentically and true to yourself, you do deny yourself and the world the gift of you." If we take her advice seriously and allow her guidance to manifest, we might very well see the astounding changes that come about from being true to ourselves, maintaining a positive mindset, and ultimately cultivating the life that we desire and deserve.
---
Similar articles with the same tag: