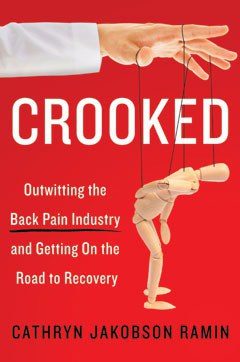 Crooked
Outwitting the Back Pain Industry and Getting on the Road to Recovery
By Cathryn Jakobson Ramin
Harper
Did you know that spinal surgeons often have investments in radiology clinics? Or that the smiling-to-crying pain scale charts now seen routinely at doctors' offices were sponsored by Purdue Pharma, maker of the opioid OxyContin? Tales of conflict of interest—and worse—fill this gripping book, a must-read for anyone who has a spine. Veteran journalist Cathryn Jakobson Ramin spent six years writing Crooked, conducting 600 interviews, and she's covered so much ground, she could have penned a series.
The first half of her book contains hair-raising stories of worthless and risky surgical techniques, dodgy government oversight, and unethical medical behavior. "It's gone now," chirps a surgeon about a patient's disc herniation—before he goes on to operate anyway. The second half of the book, however, provides succor: successful, effective strategies for treating back pain. These can be summed up by Ramin's observations of who was attending a conference, where, she writes, the speakers were "physical therapists, physiatrists, psychologists, and social workers, rather than surgeons, interventional pain physicians and pain management docs. There was a seminar on central sensitization, another on the role of fear-avoidant behavior."
Comprehensive, whole-person care is the future of medicine—we hope—and authors like Ramin are leading the charge to educate patients. This is one of those books where you will keep reading parts aloud to your partner—and sending copies to your loved ones. Don't miss it.
---
Similar articles with the same tag: