Book Review: Clearing Emotional Clutter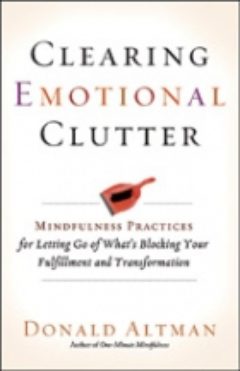 Clearing Emotional Clutter
Mindfulness Practices for Letting Go of What's Blocking Your Fulfillment and Transformation
by Donald Altman
New World Library
You couldn't swing a book bag around last year without knocking over a copy of The Life-Changing Magic of Tidying Up, Marie Kondo's international best-seller on home decluttering. It started a fad for the concept of "tidying," downsizing, and folding one's T-shirts into neat little bundles. But just as physical belongings can accumulate and molder, so, too, can towering heaps of emotional baggage, and to our rescue rides Donald Altman, author of the new book Clearing Emotional Clutter.
Altman is a practicing psychotherapist, a former Buddhist monk, and an adjunct faculty member of the Interpersonal Neurobiology program at Portland State University. In his book, he shares how our bodies and minds are vessels through which our consciousness is either clarified or hindered, depending on how much "sticky" emotional debris we're carting around with us. Some emotional clutter is obvious—painful family histories, past abuse—yet some isn't. Think you yourself have no emotional clutter? You might be surprised what falls under that banner, including anxiety, road rage, lack of self-acceptance, and a slew of communication and relationship issues. "Oh," one soon realizes, "I do have some emotional mopping up to do."
Altman's strength as an author is that he blends his mindfulness teachings with information culled from research conducted by psychologists, cognitive scientists, and neurologists. So breathing techniques, meditation tools, and inspirational stories combine seamlessly with such concepts as how practicing compassion can literally change our brain function. The result is a useful guide to living our lives in a lighter, less burdened way, releasing ourselves and those around us from unnecessary "stuff." If that's not simplifying, what is?
---
Similar articles with the same tag: