Book Review: The Happiness Track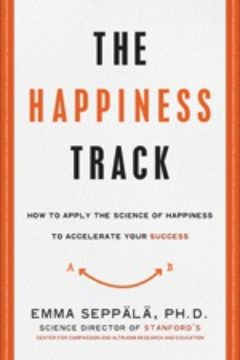 The Happiness Track
How to Apply the Science of Happiness to Accelerate your Success
By Emma Seppälä, PhD
Harper One
The pursuit of happiness shouldn't be such hard work. That's the basic concept behind a new book, The Happiness Track: How to Apply the Science of Happiness to Accelerate your Success, by Emma Seppälä, PhD, Science Director of Stanford's Center for Compassion and Altruism Research and Education. Seppälä draws on interviews she has conducted over the past decade with highly successful people in careers across the board, as well as a wealth of research on happiness, resilience, compassion, positive stress, creativity, and mindfulness, to examine the connection between happiness and success.
"Happiness—defined as a state of heightened positive emotion—has a profound positive effect on our professional and personal lives," Seppälä writes. She cites research showing the many benefits of happiness: it increases emotional and social intelligence, boosts productivity, and heightens our influence over peers and colleagues. These benefits, Seppälä argues, are the ingredients of success. Furthermore, most of us are far too stressed-out, checked-out, and burnt-out trying to "have it all."
According to Seppälä, the best thing you can do for your career is to slow down and actually enjoy the present instead of pushing yourself to get ahead. In other words, trade in the fast track for the happiness track. What sets this book apart from the plethora of guides to living a happier life is that Seppälä is a scientist and she uses empirical data—not just anecdotes and opinions—to define six keys to happiness and success: 1) Live (or work) in the moment; 2) Tap into your resilience; 3) Manage your energy; 4) Do nothing; 5) Be good to yourself; and 6) Show compassion to others. Who can argue with any of that?
---
Similar articles with the same tag: