Book Review: Black Man in a White Coat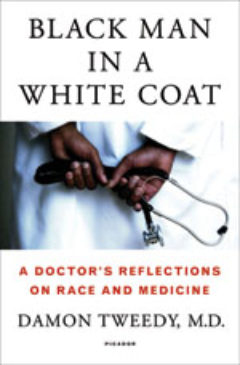 Black Man in a White Coat
A Doctor's Reflections on Race and Medicine
by Damon Tweedy
Picador
When Damon Tweedy started medical school in 1997, he learned the painful truth about medicine and race: just being black is bad for your health. Blacks not only face greater health risks, but they also have worse health outcomes, a result largely of culture, higher rates of poverty, unequal access to health care, and outright racism. Cases in point: The infant mortality rate among blacks is twice that of whites. Black men have twice the risk of prostate cancer, and black women are 40 percent more likely than white women to die of breast cancer.
Describing his experiences as student and doctor in a new memoir, Black Man in a White Coat: A Doctor's Reflections on Race and Medicine, Tweedy also learned that he had high blood pressure and had already incurred mild kidney damage—two of the most vexing health problems facing blacks.
Equally demoralizing were the negative racial attitudes that Tweedy, who grew up in a segregated working-class community in Maryland, recalls and the slights he experienced firsthand—even from the faculty at the august Duke University School of Medicine. In one first-year lecture, his professor initially mistakes him for a janitor. Working alongside mostly white teachers and students, Tweedy sees how the assumptions even well-meaning providers hold about minority patients and the judgments they make about them can lead to differences in treatment.
But Tweedy's compelling read also highlights more hopeful moments. During his internship at Duke, he encounters a hostile white patient who objects to being treated by "a nigger doctor." Tweedy nevertheless treats the dying man and eventually wins his respect and gratitude.
Tweedy writes with admirable honesty about his own racial and social biases and shows how his evolving views inform his work with patients. His book adds an important new voice on the shameful disparities that continue to afflict American medicine.
---
Similar articles with the same tag: