Music Review: Atma Bhakti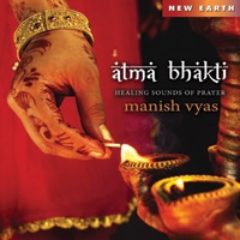 Atma Bhakti
Manish Vyas
New Earth Records
In much the same way that spiritual teachers use words to point to the inexpressible, Indian vocalist and multi-instrumentalist/composer Manish Vyas strives to use music to point toward silence. His latest release finds him incorporating voice, swarmandal (Indian harp), tanpura, keyboards, and Buddhist bells into prayers and devotional mantras that reflect the teachings he has received from some of his native country's most celebrated musicians, as well as from the gurus Osho and Gurudev.
Atma Bhakti consists of two main tracks, each one approximately a half-hour long. The first of these, "Atma," is a chant for happiness, well-being, peace, prosperity, and health, while the second, "Bhakti," is a call to the Higher Self as embodied by Shiva. The latter track's chant of "Shivaya namaha om, shivaya namaha, shivaya namaha om, namaha shivaya" is enriched by some lush harmonies from choir vocalists Jay Dave, Krishna Jani, and Singdha Pious. In both songs, the bamboo flute playing of Milind Date fills much of the space between vocals.
As an epilogue of sorts, Atma Bhakti ends with approximately five minutes of Vedic chanting that combines various prayers traditionally offered to deities by devotees in Hindu temples. While the chanting here is more energetic than on the previous two tracks, the song ends on a tranquil note, with Vyas sending the listener back to shore on a gentle instrumental wave.
---
Similar articles with the same tag: