Music Review: Winds of Samsara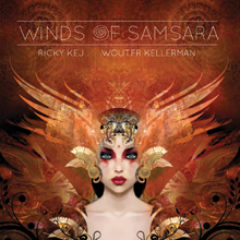 Winds of Samsara
Ricky Kej & Wouter Kellerman
Revolution Studios/Kellerman Music
Nonviolence and world peace are themes gently blowing through Winds of Samsara, the beautiful new album from South African flute player Wouter Kellerman and Indian keyboardist/composer Ricky Kej.
The album features musical tributes and prayers to Mahatma Gandhi ("Mahatma") and Nelson Mandela ("Madiba"). Gandhi began his experiments with truth and civil resistance in South Africa and later inspired Mandela's own struggles for justice and peace. Gandhi is prominently quoted in the liner notes: "Happiness is when what you think, what you say, and what you do are in harmony."
Winds of Samsara is gentle and earthy, infused with instruments, vocals, and words from around the world including Australia, Africa, and India and recorded in a diversity of locations like India, Johannesburg, and Los Angeles. The sweet songs and lush production are the result of the global interconnection of Kej and Kellerman, who collaborated on songs
via Internet, trading digital files "from oceans apart."
Lead and rhythmic vocals by Prakash Sontakke, Lamine Sonko, Alexis D'Souza, and others are uplifting and full of the spirit of life, guiding lush New Age songs that open into wide plateaus of strings, choirs, and gentle percussion.
A beautiful full-color booklet of lyrics and liner notes offers the behind-the-scenes philosophy of each song, including soft images of blue lakes and painted faces that match the mood of the fourteen songs that touch on truth, beauty and longing. Two modern arrangements of traditional and classical pieces are included as well: "Greensleeves" and a Chopin Nocturne, featuring pianist Michael Lewin.
---
Similar articles with the same tag: