Sweta Srivastava Vikram
Sweta Srivastava Vikram is an international speaker, best-selling author of 13 books, and Ayurveda and mindset coach who is committed to helping people thrive on their own terms. Sweta is a trained yogi and certified Ayurveda health coach, and lives in New York City with her husband. She also teaches yoga, meditation, and mindfulness to survivors of sexual assault and domestic violence as well incarcerated men and women. Find her on: Twitter, Instagram, LinkedIn, and Facebook.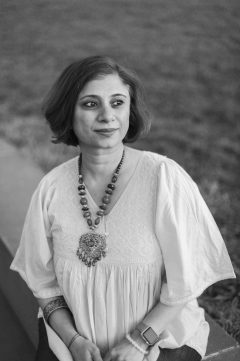 What makes a mantra? Discover how chanting Vedic meditation mantras creates heal…
Excess Kapha leads to stagnation and congestion in both the mind and body.…
Be an at-home apothecary and avoid Vata aggravation with these Ayurveda-friendly…
When Vata mobilizes in dry, windy autumn, it accumulates in the nervous system a…
We like to believe we know ourselves. But is that enough for determining our dos…
Ayurvedic cooking tests whether food has a heating or cooling effect in your bod…
Reap abhyanga self-massage benefits by anointing the body from head to toe with …
9 Tips for Balancing the Pitta Dosha
Cilantro and fennel are among the Ayurvedic herbs that help to calm Pitta's heat…
Do I Really Have to Be Asleep by Ten?
How Drinking Warm Water Can Empower Your Health