Keri Mangis
Keri Mangis, E-RYT, CAP, is a Transformation and Lifestyle Consultant, spiritual guide, author, and speaker. Her first book, "Embodying Soul: A Return to Wholeness," won several awards, including the 2020 IPA award for Mind, Body & Spirit and the 2020 Readers' Favorite Gold Medal in Non-Fiction Spiritual and Supernatural. You can learn more on her website.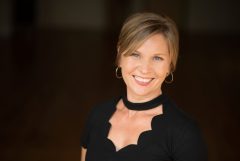 Dive more deeply into your subtle body with a yoga nidra practice for the koshas…
Your inner Saboteur knows your weaknesses. Here's how to outsmart the Saboteur a…
Understanding the gifts and lessons of each aspect of the Triple Goddess can cre…
Move your Ayurvedic practice from the kitchen to the bedroom with these practice…
Comfort and safety can only take you so far. Go deeper with yin yoga.
Raise your digestion and feel your energy rise naturally with yogurt lassis.…
Try this yin yoga sequence to cool down hot emotions before reacting impulsively…
Use yin yoga to target the channels of energy that fear, anxiety, and confusion …
Connecting the Personal to the Collective
How to Live in the Now Without Negating Past or Future