Diane Musho Hamilton, Gabriel Menegale Wilson, and Kimberly Loh
Diane Musho Hamilton is an award-winning professional mediator, author, and teacher of Zen meditation. She is the Executive Director of Two Arrows Zen, a practice in Utah, and cofounder of the Integral Facilitator, a training program oriented to personal development and advanced facilitator skills. She is the author of Everything Is Workable and The Zen of You and Me.
Gabriel Menegale Wilson is a leadership coach, organizational change consultant, and peace-builder with a specialty in diversity and inclusion efforts. He is a certified integral facilitator and an associate for Delta Developmental, a leadership and organizational development consultancy.
Kimberly Loh is an author, coach, and peace specialist working to foster conflict transformation and ethical leadership. Her work includes international peace research at the United Nations, post-graduate conflict resolution at Columbia University, and individual and group coaching to expand our personal and collective potential.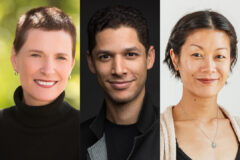 Difficult conversations are a powerful time to learn to handle strong emotions. …
The authors put power dynamics and social privilege in context, making it clear …