Book Review: Compassionate Conversations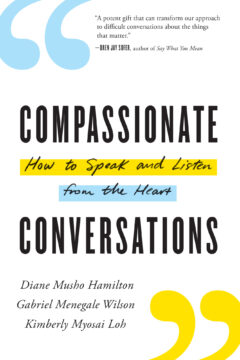 In today's charged sociopolitical climate, it's easy for conversations about politics, religion, race, gender, and sexual orientation to degenerate into shouting matches. With an eye toward keeping communication productive, mediator/Zen teacher Diane Musho Hamilton, leadership coach/peace-builder/certified integral facilitator/organizational change consultant Gabriel Menegale Wilson, EdM, and peace specialist/coach Kimberly Loh have coauthored Compassionate Conversations.
Using true stories as reference points, the authors put power dynamics and social privilege in context, making it clear why so-called "politically incorrect" speech can be hurtful to the marginalized and disenfranchised. They then offer communication tools, such as a seven-step process for transmuting emotions; an outline of the three perspectives "I," "we," and "it;" tips for finding common ground; and methods of monitoring our physical reactions as we discuss our differences. At the end of each chapter are practices designed to bring these principles to life for the reader.
While it should be accessible to many readers who don't identify as spiritual, Compassionate Conversations draws on the wisdom of Buddhist leaders like Thich Nhat Hanh, the Dalai Lama, and Chögyam Trungpa Rinpoche, as well as on the ideas of Westerners like Ken Wilber, Alex Grey, and HeartMath founder Doc Childre. The book also presents some interesting insights on political correctness as a form of the Buddhist practice of right speech: "It is truly remarkable for a culture to collectively attempt to change negative habits in real time. Nowadays, PC values have taken on such momentum that nearly everyone is compelled to participate—journalists, politicians, managers, athletes, celebrities—even when they don't want to. And if they don't want to, at least they have to think long and hard about why not."