Get Grounded With These 3 Root Chakra Soups (Plus 1 Bonus Recipe)
Thai Red Curry Coconut Squash Soup will help balance the Root Chakra. Image by Kelley Schuyler.
Are you looking for more clarity, confidence, security, and balance in your life? It's possible your root chakra could need some nourishment. Use these three soup recipes to help realign your root chakra.
Are you looking for more clarity, confidence, security, and balance in your life? It's possible your root chakra could need some nourishment.
If you're new to working with chakras, or if you've never really understood what they are, they are energy centers within the body that respond to what is happening around you.
For thousands of years, ancient leaders, divine wisdom teachers and mystics have worked with and studied chakras for optimal mental, physical, and spiritual wellbeing.
"Chakras are concentrated points of energy within us, and when they are healthy, vital life energy flows through them unimpeded. When this happens, their colors are bright and clear. The opposite occurs during energetic imbalances; their colors are more dense, dark, and dull," says Amy Leigh Mercree, medical intuitive and author of The Mood Book.
The good news is that you can balance your chakras in a myriad of ways. Your root chakra is located at the base of your spine in the tailbone area. This is where our sense of security lies. It is all about stability, balance, and security. When it is blocked, it makes you fearful. You may stress out a lot more about money or your daily needs, and this insecurity can even become paralyzing to your emotional state of mind.
There are many ways to open a blocked root chakra. Start by going for a walk outside in nature. You can meditate regularly, journal often, and practice Chi Kung or chanting. Also, Kundalini yoga is a great stabilizer, but sometimes your wellness practice just isn't enough. What you eat and put into your body is just as important as your daily habits.
What you eat can affect your root chakra balance as well. If you have headaches or brain fog, this could also be an indicator your chakras are off. The color associated with the root chakra is red so any foods with a natural red pigment will have grounding properties to help heal and rebalance the root chakra. Think of foods that root themselves like carrots, potatoes, beets, radishes, onions, garlic, cinnamon, turmeric, leafy greens, and spirulina. Include high-protein choices like red meats and eggs. If you're vegetarian or vegan, red beans, lentils, and tofu are an excellent protein source, as well as nuts.
An unbalanced root chakra can lead to several physical symptoms. Since the root chakra governs the lower extremities—kidneys, bladder, and spine—if there are some blockages in this chakra, you may experience aging, weight issues, constipation, or fatigue. Emotionally speaking, when the first chakra is blocked, you could feel insecure, fearful, anxious or extra agitated.
To help you reclaim your sanity and feel secure and strong, I gathered top root-chakra-balancing soups and dishes.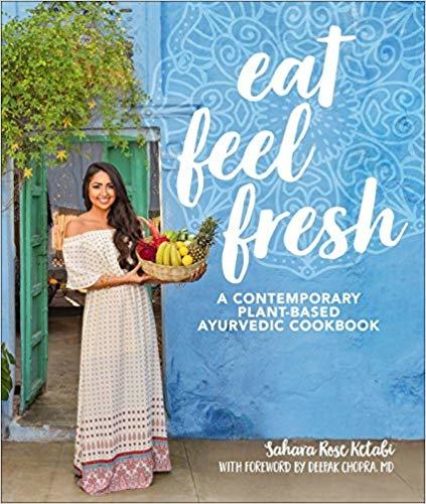 Thai Red Curry Coconut Squash Soup for the Muladhara (Root) Chakra
This Ayurvedic soup recipe, from Sahara Rose Ketabi's cookbook, Eat Feel Fresh, will bring your root chakra into balance with ingredients and hues that help support this energy center.
Ingredients
2 tbsp coconut oil or olive oil
1 medium yellow onion or fennel bulb, chopped
4 garlic cloves, minced (option to reduce or omit for pitta)
2–3 tbsp vegan Thai red curry paste (option to omit for pitta)
2 tsp ground coriander
1 tsp ground cumin
1/4 tsp sea salt
1/4 tsp crushed red pepper flakes (omit for pitta)
2 lbs butternut or kabocha squash, peeled, seeded, and cut into ½-inch pieces (about 3 cups)
1 quart vegetable broth
1/2 cup large unsweetened coconut flakes, to garnish
1 tbsp fresh lime juice
1/2 cup full-fat coconut milk, to serve
1/4 cup fresh cilantro, chopped, to garnish
Instructions
1. In a large Dutch oven or pot, heat oil over medium heat. Add onion, garlic, curry paste, coriander, cumin, salt and red pepper flakes. Stir to combine, and cook until onion is translucent, 5 minutes.
2. Add butternut squash, and cook for 1 minute. Add broth, and bring to a boil. Then reduce heat, and simmer until squash is soft, 15 to 20 minutes.
3. While soup is cooking, toast coconut flakes in a medium skillet over medium-low heat, stirring frequently, until golden brown around the edges. Remove from heat.
4. Once squash is soft, remove soup from heat, and let cool slightly. Working in batches, transfer the soup mixture to a blender and blend until smooth, or use an immersion blender. Return pureed soup to the pot, and repeat until soup is completely blended.
5. Stir lime juice into the blended soup. Serve drizzled with coconut milk and sprinkled with toasted coconut flakes and fresh cilantro.
Excerpt adapted from Eat Feel Fresh: A Contemporary Plant-Based Ayurvedic Cookbook. © by Sahara Rose Ketabi, with permission from Alpha.

Thai Sweet Potato and Parsnip Soup
This recipe from Laura of OMMFoods.co.uk is a wintertime favorite. You'll love the creamy and smooth sweet potato perfectly paired with parsnip, for a soup that is mildly spicy and richly flavored.
Ingredients
1 tbsp coconut oil
1 onion diced
1 jalapeño finely chopped
1 tsp garlic grated
1/2 tbsp fresh ginger minced
2 tbsp red curry paste
1 cup vegetable stock
2 large sweet potatoes peeled and diced
2 large parsnips peeled and diced
1 cup unsweetened almond milk
1 bunch fresh coriander chopped
1 handful roasted nuts chopped
Instructions
1. Heat the oil in a large saucepan over medium-high heat. Add the onion, jalapeño, garlic, and ginger and sauté until the onion is translucent, about 5 minutes. Add curry paste and stir until combined, about 1 minute.
2. Add the carrots and sweet potatoes and season with salt and pepper. Stir everything together, then pour in the almond milk and the vegetable stock.
3. Bring the mixture to a boil, then reduce the heat to low and let it simmer for 20 to 25 minutes or until the vegetables are fork-tender.
4. Using a blender, add soup in batches and puree. Once pureed, taste for seasoning and serve the soup topped with the chopped roasted nuts and coriander, if desired.
5. Season to taste, adding a pinch of salt or black pepper, if desired.
6. Remove the soup from heat and let cool slightly. Add the vegetables in broth plus maple syrup to a blender and puree until creamy and smooth. Depending on the size of your blender , you may need to work in batches. Alternately, you can use an immersion blender right in the pot.
7. Return soup back to the pot and stir in the lime juice.
8. Serve with chopped cilantro and extra coconut beverage, for drizzle.
Chakra Recipes: Root Veggie Soup for Muladhara
This soup is from Mary Wood of Peaceful Dumpling is designed to bring harmony to your root chakra, Muladhara.
Ingredients
1 yellow onion, diced
1 tbsp unrefined coconut oil
1 medium sweet potato or yam
1 1/2 knob of fresh ginger, peeled
1 tsp sea salt
2 cups unsweetened coconut milk
1 cup low-sodium vegetable broth
1/2 tsp ground nutmeg
1 tsp curry powder
1 tsp cinnamon
1/2 tsp ground black pepper
A few sprigs parsley
2 tbsp unsweetened coconut milk yogurt
4 medium carrots, peeled
Instructions
1. Warm the coconut oil in a large pot over medium heat and begin sautéing onion, carrots, sweet potato, ginger and garlic. Stir occasionally for 10 minutes or until the onion is translucent.
2. Add the vegetable broth, coconut milk, salt, pepper, nutmeg, cinnamon and curry. Bring the pot to a boil. Reduce the heat to a simmer, cover the pot, and allow the vegetables to cook in the liquid for 15 to 20 minutes, or until the carrots and sweet potato are fork-tender.
3. Remove the pot from heat and decant into a high-speed blender. Puree the soup until nice and creamy.
4. Serve in bowls and garnish with a dollop of coconut yogurt and a sprig of parsley.
Savory Superfood Tofu Quinoa Bowl
Although this isn't a soup, it is perfect for the season and one of the hardest ways to balance your root chakra. This recipe from Amy Leigh Mercree, medical intuitive and author of The Mood Book, is a savory superfood tofu quinoa bowl that is packed with ingredients to keep you full throughout the day.
Ingredients
Serves 2
1 cup quinoa
2 cups chopped broccoli
2 cups cubed tofu
1/2 large onion, chopped
3 cloves garlic, peeled and finely chopped
1 sprig parsley, finely chopped
1 tbsp dry cranberries
1 cup cauliflower
1 1/2 cups water
1 tbsp almonds, roughly chopped
1 tbsp walnuts, roughly chopped
2 tsp turmeric
2 tsp ginger
1 tsp fennel seeds
2 tsp soy sauce
2 tsp Bragg's Liquid Aminos
1/2 cup lime juice
1 tbsp honey
1 tbsp olive oil
Salt and pepper to taste
Instructions
In a saucepan, bring water to a boil. Add the quinoa, turmeric, ginger, lime juice and soy sauce once boiling and then reduce to medium-low heat until quinoa is fluffy. Remove from heat.
In a skillet or sauté pan, heat the olive oil over medium-high heat. Add the garlic and sauté, stirring, for 1 minute. Add the tofu, onion, fennel seeds, and Bragg's Liquid Aminos and cook until tofu is browned, stirring frequently. Remove from heat.
Next, add the broccoli, dried cranberries, cauliflower, walnuts, almonds, turmeric, ginger, soy sauce, and honey. Sauté until broccoli and cauliflower are cooked to your liking. (I like them a little crisp.) Remove from heat.
Add the contents of the sauté pan to the saucepan and gently fold it into the quinoa. Season with salt and pepper to taste, garnish with parsley, and serve. You just made a power-packed, superfood extravaganza!