Music Review: Breaking the Thermometer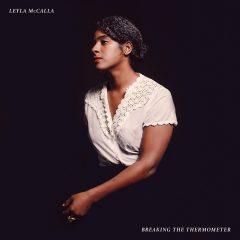 Breaking the Thermometer by Leyla McCalla is an ambitious and rewarding project that intersects music, politics, journalism, and personal history.
A vocalist and multi-instrumentalist, McCalla was born in New York City to Haitian emigrant activist parents and later lived in Ghana for two years. She's now settled in New Orleans. McCalla was a member of the Grammy Award-winning Carolina Chocolate Drops and her 2014 solo debut album was Vari-Colored Songs: A Tribute to Langston Hughes followed by A Day for the Hunter, a Day for the Prey (2016) and Capitalist Blues (2019).
For this album, the focus is on Radio Haiti and the journalists who risked and lost their lives working for democracy and justice for four decades beginning in the 1960s.
After the assassination of Radio Haiti activist-journalist Jean Dominique in 2000, his widow Michèle Montas kept the station going. Her voice is heard on the song "Ekzile." McCalla dived into hours of Radio Haiti archives at Duke University as part of her research.
McCalla writes in the liner notes: "Haiti was the first independent Black nation in the western hemisphere. Its very existence was and remains a threat to colonial power. At the same time, it symbolizes a lot about injustice and oppression around the world."
McCalla's dedication to illuminating the Black roots of American culture is present throughout this audio journey. Afro-Caribbean rhythms and melodies are accented by beautiful cello and banjo, with lyrics and vocal samples in English, Haitian Kreyòl, and French. Other audio artifacts include sweeping brooms, rooster calls, and the pulse of gentle ocean waves, which book end the album.

---
Similar articles with the same tag: