Music Review: Stories Up High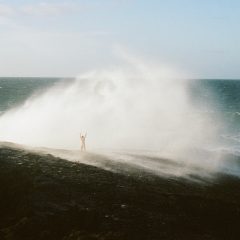 Laney Jones has been to the bottom and back up again. Lucky for us, she has the courage to share her journey and discoveries on her third album, Stories Up High. It moves from melancholy ballads to pop-rock foot stompers with sweeping fuzz guitar. Jones sings her heart out and plays vintage guitars and Wurlitzer organ. A full band carries the 11 songs, including Jones' husband Brian Dowd, who brings in the drums.
On the title song Jones sings: "If I had a crystal ball / I never would have lived at all." Later, on "Secret Weapon," she points to the possibility of self-healing, breathing deeply, and silencing the inner judging voice. Jones sings: "Nothing's gonna hold me back but myself / and no one's gonna bring me down, if I don't let them." And on "One Fine Morning" Jones' optimism glows: "One fine morning you will wake and find yourself in a different state."
Deeper with Laney Jones
"I think I had some saying for it the other day," Laney Jones says when asked to describe her music. A little later she remembers: "Psychedelic anti-folk! Yeah, that's what I was saying. It's a little trippy sonically, but it's folk music though. I still write it on guitar or banjo or whatever."
Speaking of instruments, Jones plays guitar, electric guitar, banjo, ukelele, and organ on her new album. "And obviously I did some signing and stuff, too," she adds.
She compares instrumentation to a painter's palette. It's an intuitive understanding of what should go where. She wanted musical saw on her new record for the last song, "If Life Is," but settled for the equally mysterious-sounding theramin. She mentions that she has since taught herself to play—"there's YouTube and stuff"—and pulls a saw from the wall to demonstrate. "I'll give you a quick demo if you'd like," she says, curving the saw into an S shape.
The lyrics on Stories Up High are simultaneously soulful and gnomic: "You get fat on what you're fed," she sings.
"I saw this thing the other day," she says, "that all the cells in your body are listening to the thoughts that you are saying to yourself. I think that's so true. There's this vibration that's in everybody. You are what you think."
Jones worked on the record for five years. "I heard a quote, 'Writers write what they need to hear.' For me I was going through finally being an adult and figuring out what's the path in life. You can either wake up or keep floating along confused."
It's like, you got to hit bottom before you can come back up again. For me it came to just breathing. I started doing the Five Tibetan Rites, technically yoga before yoga. The philosophical part is that you have everything inside yourself that you need to heal, and to feel your best. When I do them, I feel so much better. —Laney Jones