Music Review: They're Calling Me Home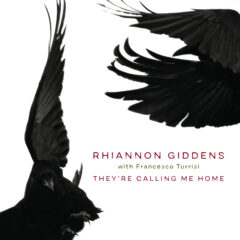 If there's an upside to the pandemic, it's that it inspired creative endeavors like They're Calling Me Home. Rhiannon Giddens, a native of North Carolina, recorded the album in Ireland with her multi-instrumentalist Italian husband Francesco Turrisi after the two found themselves in COVID lockdown outside of Dublin.
As always, Giddens' voice is evocative and emotional. She conjures Southern folk music, African blues, and slavery-era gospel songs. Her expressive vocals bend and bolt amidst banjo, fiddle, guitar, and frame drum. On "I Shall Not Be Moved" Giddens sings with liberatory strength, "On my way to freedom, I shall not be moved" and bagpipes cry out in a moving rendition of "Amazing Grace."
The influence of Ireland bubbles through with Irish flute on the instrumental "Bully for You," while the Italian influence is obvious on "Si dolce è'l Tormento," with Giddens singing in her husband's native language.
Giddens and Turrisi don't attempt to turn away from the reality of the pandemic but move their attention directly into relevant themes of isolation, fear, and death. In a press release Giddens describes the song "Avalon" as representing, "the two sides of the contemplation of the final transition—the sadness of the ones left behind, and the joy at the thought of somehow meeting again ... someday, somewhere." Her voice intones: "When the time has come and life is bare, I'll make the journey and I know where."
---
Similar articles with the same tag: