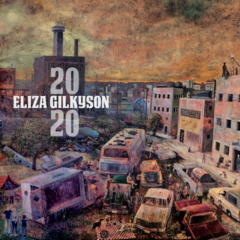 After devoting the bulk of the lyrics on her 2018 album Secularia to spirituality and mortality, Austin, Texas, folk singer Eliza Gilkyson has resumed her role as town crier. In one way or another, every song on 2020 is a protest song. Some of them emphasize the positive by exalting the beauty that makes this planet and its inhabitants worth saving, but most directly tackle issues like social inequality, climate change, and life in the Trump era.
Along with serving as the album's producer, Gilkyson's son, Cisco Ryder, plays drums on 2020. The backup instrumentation, which also consists of guitar, fiddle, mandolin, keyboard, and bass, brings a little extra swagger to tracks like "Peace in Our Hearts" and "Sooner or Later." In the latter of these, Gilkyson declares, "We've been under their thumb for a long, long time. They give us just enough water, just enough wine … but sooner or later, it's a natural fact, we're gonna rise up, gonna take it all back."
Mixed into the originals on 2020 are two potent cover songs: Bob Dylan's "A Hard Rain's A-Gonna Fall" and Pete Seeger's "Where Have All the Flowers Gone?" These, along with "Beach Haven"—an adaptation of a letter that folk music legend Woody Guthrie penned in 1952 to Donald Trump's father, Fred Trump, about the latter's racist renter policies—reframe classic folk statements for modern times while clearly marking Gilkyson's current output as traditional folk music, 2020 style.