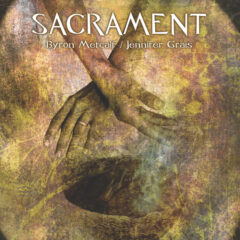 Sacrament is an album of ritual music with a Native American flavor by multi-instrumentalist Byron Metcalf and vocalist Jennifer Grais. The flowing, rhythmic journey includes flutes, synthesizers, rattles, and drums and is intended to inspire an expanded state of mind.
"We don't just make music to support ceremony; we make music as ceremony," Metcalf told S&H. "Before each recording session we did ceremony; ritual prayer, cleansing, and a lot of shamanic work. It's an amazing process; totally created in the moment. We don't rehearse."
Metcalf is an award-winning recording artist based in Arizona whose music is informed by years of transpersonal psychology, holotropic breathwork, and shamanic ceremonies. "I'm really drawn to Amazonian shamanism and the ayahuasca cultures in the Peruvian Andes," Metcalf says.
Jennifer Grais is a vocalist, author, and shamanic practitioner who toured with Jackson Browne as a backup singer. "When Jennifer sings, it's an amazing thing; something comes through her. We have some melodic textures laid out and Jennifer does a ritual and goes into an altered state. She steps up to the mic and the music comes through her."
Additional musicians on Sacrament are Andrej Hrvatin (Nimetu) on Native American-style flutes, synthesizers, and soundscapes, Dashmesh Khalsa on didgeridoo and synth, and Peter Phippen on shakuhachi. "This album has more of a Native American quality than our previous album. We're sensitive about cultural appropriation of Native Americans; I tend to err on the side of caution and a lot of respect for their cultural wounds," Metcalf explains. "Our music is there to support people going deeper into self-discovery and transformation."
---
Similar articles with the same tag: