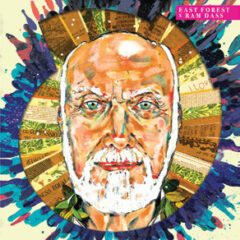 On his latest work, Portland, Oregon's Trevor Oswalt, a.k.a. East Forest, drapes contemporary classical and electronic music around spokenword recordings of the celebrated spiritual teacher Ram Dass. In so doing, he follows in the footsteps of The Glitch Mob's Justin Boreta, who used a recording of Ram Dass leading a guided meditation in the 1970s as the basis for his 2018 piece "Imagine." However, whereas Boreta's deliberately unobtrusive soundscape simply provided tasteful backlighting for the Be Here Now author's words, East Forest's music shares the foreground of the efficiently titled Ram Dass with the commentary from the album's namesake.
Recorded in June 2018 at Ram Dass' home on Maui, his musings cover subjects like nature, the soul, and the dying process, as well as his memories of taking psilocybin, traveling through India with yogi/musician Bhagavan Das, and meeting his guru, Neem Karoli Baba, for the first time. While he has shared many of these stories and insights elsewhere in greater detail, these snippets of discourse might pique the interest of listeners unfamiliar with his teachings.
Joined by guest artists like singer/songwriter Trevor Hall and kirtan singer Krishna Das, Oswalt uses a variety of textures and tempos to complement Ram Dass' reflections. Tranquil, piano-based compositions like "Nature" and "Dark Thoughts" are the most comfortable fit with the words of Ram Dass, while some of the more uptempo tracks fall a few notches shy of transcendent: "SouLand" is situated dangerously close to commercial pop territory, and on "Electronic Sea," the rapping of Dead Prez's stic.man pairs oddly with Ram Dass' comments about identifying with the universe as opposed to with one's individuality.
Ram Dass isn't without its false steps, but if nothing else, it may introduce younger audiences to the warmth and humor of a beloved spiritual figure and counterculture icon.